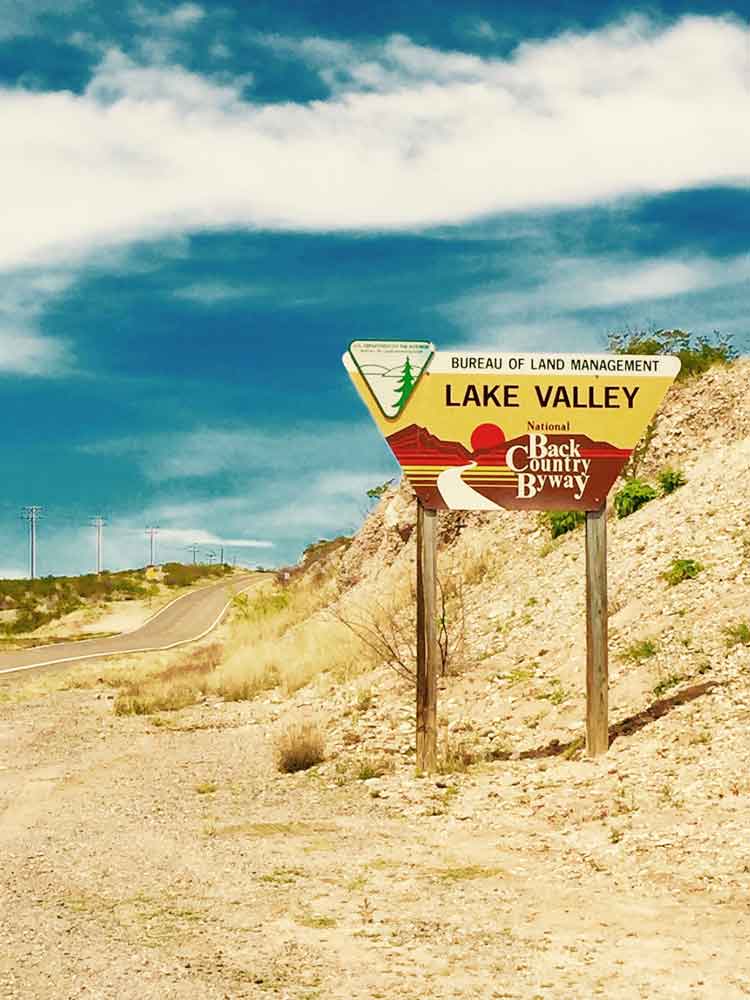 Sweet mountain scenery, wildflowers in bloom, winding two-lane roads, chaparral birds (roadrunners) on the run, hawks soaring overhead, historic Hillsboro, and the Lake Valley ghost town… This pretty much sums up what you'll see while cruising along the satisfyingly empty stretch of two-lane paved road known as the Lake Valley Back Country Byway.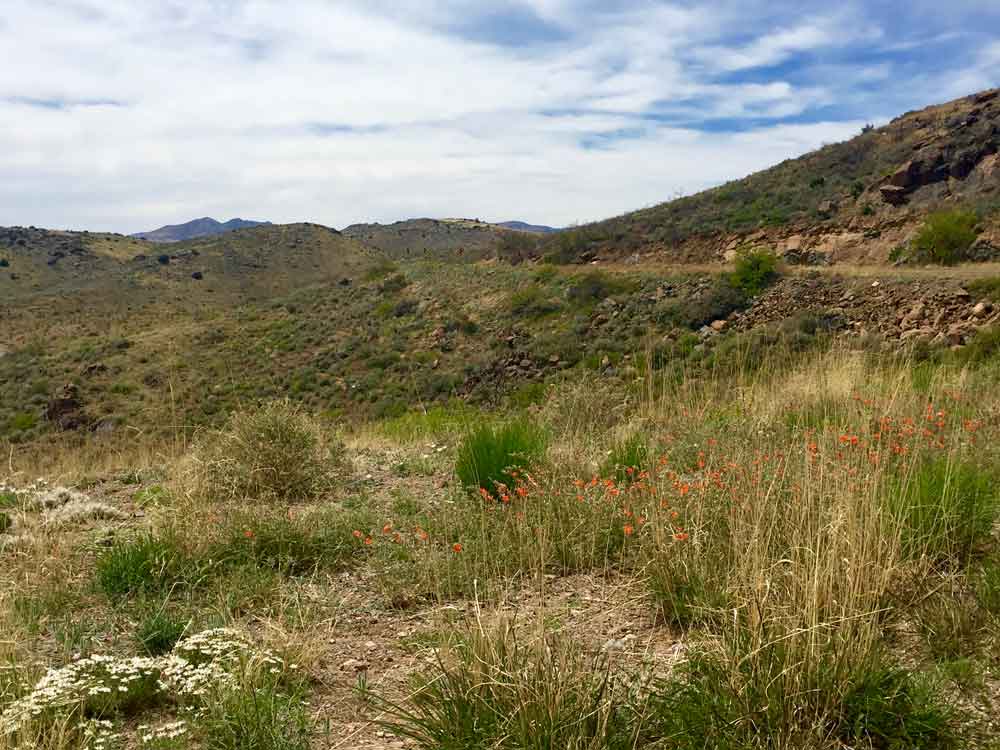 In case you somehow didn't know this, driving for pleasure is fun. And according to the study that led to the formation of the BLM's National Scenic Byway and National Back Country Byway programs, this popular American pastime ranks very high on the list of things we do to forget our troubles for a while and simply enjoy being alive in this country.
I am no exception to these findings, so what a lovely time I had hanging my head out the car window and letting my sun-bleached hair fly free in the warm spring breeze. Oh wait, that was Mojo.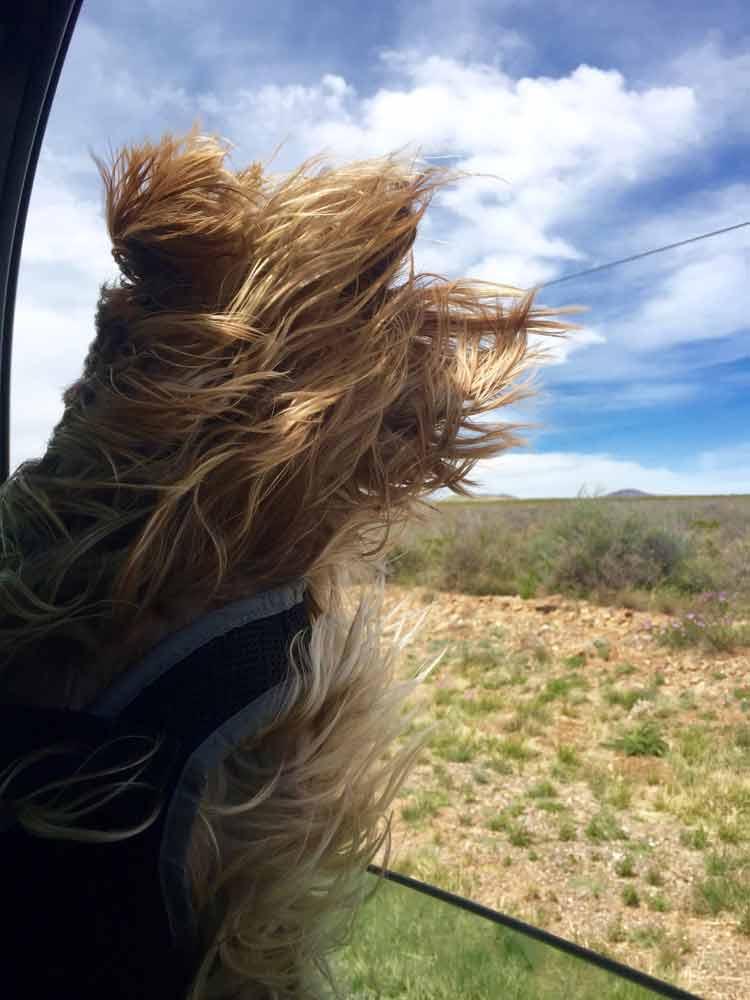 For anyone interested in making the trek, the Lake Valley Back Country Byway officially starts on route 152, headed west toward Hillsboro off of 181 South near Caballo Lake State Park, and then goes south along 27 toward Lake Valley and Nutt.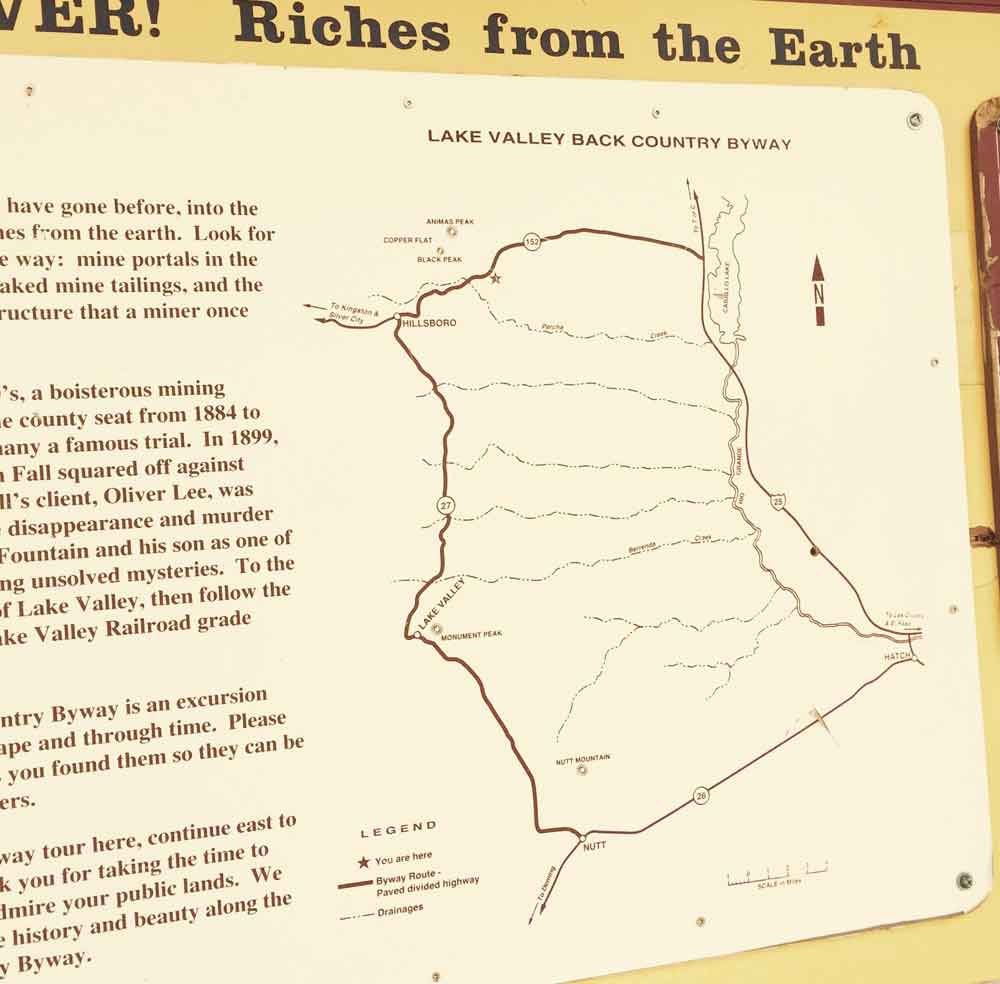 As you drive down this nationally designated scenic byway, you'll probably want to pull off to the side of the road for a moment or two to take a deep breath and perhaps snap a few photos of your surroundings. Creosote, juniper, ocotillo, and mesquite-covered hills as well as stunning views of the Caballo, Black Range, and Mimbres Mountains will guide your way to Lake Valley, a once booming turn of the century manganese mining town that is now almost entirely vacant.
I say "almost" because there is a couple currently making their home amongst the ruins. But their sole reason for being there is to keep Lake Valley's remains open to the public for self-guided ghost town walking tours (current hours of operation are Thursday through Monday, 9 a.m. to 4 p.m, and it takes about 45 minutes to an hour to get there, depending on how fast you drive and how many stops you make).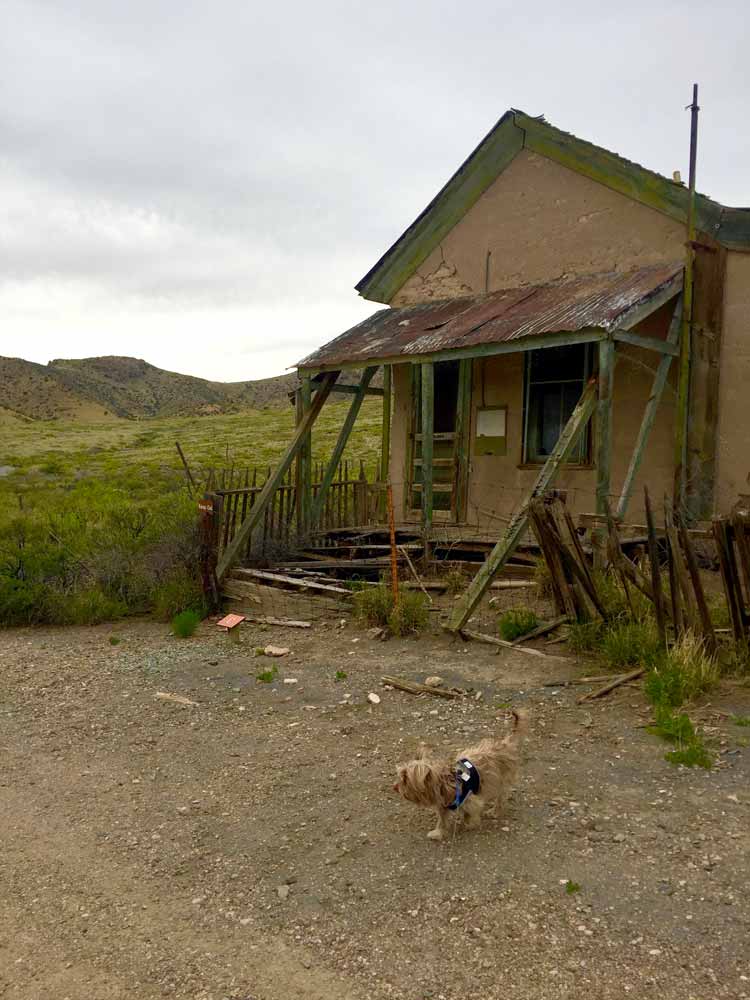 When we made the turn off of route 27 and pulled through the entry gate, my initial impression was that there isn't much to see in Lake Valley. And really, there isn't. But if you stop at the Schoolhouse and grab a Self-Guided Walking Tour map (and detailed information guide) before wandering down Main Street, the well-marked yet dilapidated buildings and sites begin to come alive.
Settlers were scoring silver in Lake Valley beginning in 1878, and the Sierra Grande Mining Company, established by a fellow by the name of Whitaker Wright, was in control of the Lake Valley Mines. Apparently, with the discovery of one giant deposit of silver ore in 1882, dubbed the Bridal Chamber, Wright was able to convince several investors from back east to funnel money into the mines. One surprising little factoid is that Walt Whitman, the free-spirited poet who authored the beloved Leaves of Grass, bought 200 shares of the silver claim in Lake Valley.
After wandering around Lake Valley's historic mining town remains, you may want to stop at the old cemetery on the other side of route 27—just past the ghost town entrance on top of a small hill.
While meandering through the somewhat overgrown rows of grave sites, I came across headstones dating back to the late-1800s. Many of the graves exist today as mere unmarked swells of earth surrounded by rocks.
I can't explain the curious sense of peace I felt weaving in and out of the final resting places for these folks who dwelled in a very different reality than the one we're currently experiencing. Horses and buggies, muddied streets, noisy trains rolling in and out of town, no Internet or cell phones or running water or electricity. Townspeople singing folk spirituals at the church, children playing together at the schoolhouse, miners with blackened faces gambling and drinking into the night…
It's hard to say exactly what life looked or felt like back then, but my stroll through the cemetery was a solid reminder that in the end, we all end up in the dirt. Some of us will have fancy gravestones and poetic epitaphs; others will have nothing but a bunch of rocks to mark our meager mounds.
C'est la vie…