Winston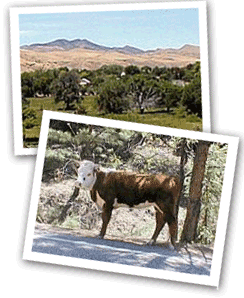 Winston Historic District's old houses, stores, and buildings date from late 1800s during the boom days of silver mines in the area.
At its height the town had a population of over three thousand but now this area, once homeland to Warm Spring Apaches, is used for good grazing for the cattle industry and open range cattle are often seen walking on the road.
A Community Fiesta with a parade, barbecue, flea market, cow-chip poker and a dance is held yearly in June.
Cuchillo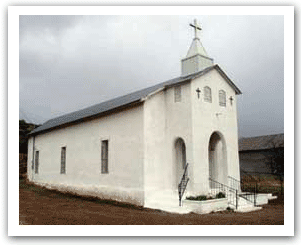 Named for nearby Cuchillo Negro (Black Knife) Creek, which in turn took its name from a local Apache chief, Cuchillo was settled by Hispanic farmers and ranchers in the 1850s.
It became a stop for the stagecoach line and a resting place for travelers in the late 1800s, being midway between the railroad in Engle and the mines near Chloride and Winston.
Chloride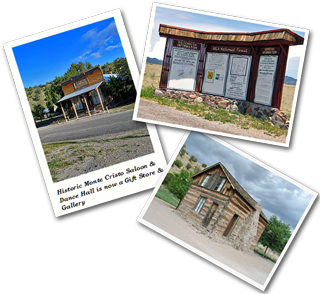 Chloride was founded in 1879 when silver chloride ore was discovered, and at its height had three thousand residents. Like other silver-producing towns in the region, it was wiped out during the silver panic of 1893, precipitated by the U.S. government selecting gold as the monetary standard.
Today, the old buildings are being restored and the Pioneer Store is now a world-class museum listed on the New Mexico Office of Cultural Affairs' list of Historic Places.
The Monte Cristo Saloon & Dance Hall, next door to the Museum, is now a beautiful gallery and gift store.


Monticello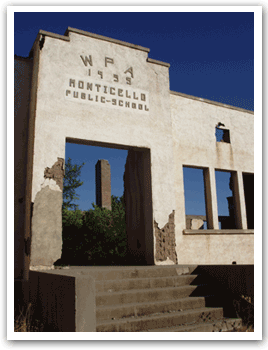 Monticello is laid out in traditional Spanish style, with a church and other structures surrounding a central plaza. The outer walls of the perimeter buildings were thick adobe with gunsight holes for defense, and the remains of the old adobe town walls are still visible.
Today the land supports organic farming and the plaza is a small community park. San Ignacio Catholic Church, built in 1867, still stands on the north side and is used regularly. There are no stores or facilities available, and all buildings are on private property.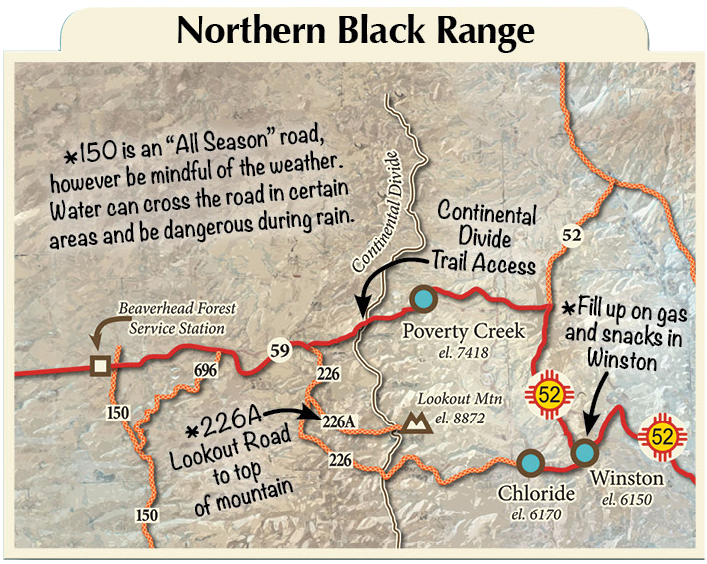 Beaverhead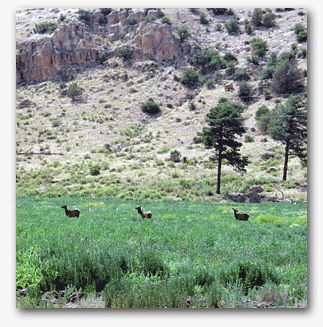 A forest service camp, Beaverhead is the end of pavement for the Black Range entrance to the Aldo Leopold Wilderness, a part of the 3 million square mile Gila National Forest.  Both fire and trail crew personnel are stationed at the camp seasonally and it has outdoor bathrooms and potable water.
Motorized vehicles are not allowed in the Wilderness area but from here you can explore on foot, horseback or mountain bike.  No camping is allowed in the administrative site but when the office is staffed, maps and information on facilities are available.





The Continental Divide National Scenic Trail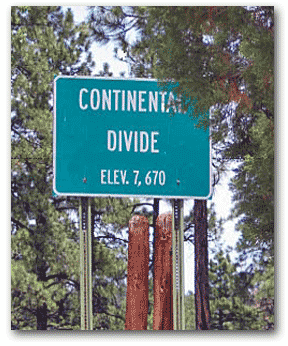 The CDT side trip crosses Rt. 59 near Beaverhead and cuts across the center ridgeline of the Aldo Leopold Wilderness then into the Gila National Forest. The pristine landscape with deep canyons, tree covered peaks and spectacular vista points offer a rich and unique experience in nature.  The area abounds with deer, elk, wild turkey, and birds plus mountain vegetation.