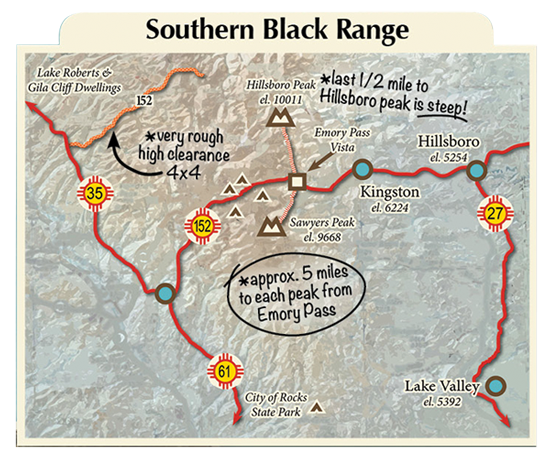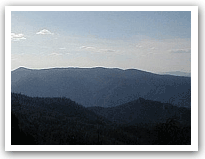 Leaving Caballo, the Byway runs west for about 50 miles on Highway 152, ascending from the Rio Grande Valley through ranch country, over the pine-forested Black Range Mountains through Emory Pass, and then descending toward scrub-dotted slopes. During rare times of severe weather these roads may be closed, and stay closed until cleared.
Parts of this road run through open range where cattle have the legal right-of-way. Automobile services, including gasoline, are not available outside of Hillsboro.
Hillsboro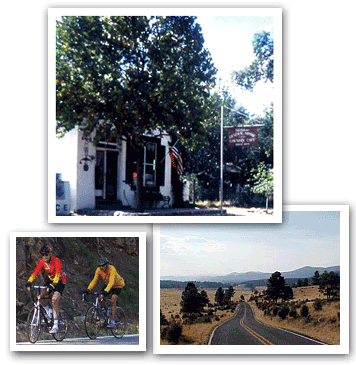 Picturesque Hillsboro was founded in 1877 when gold and silver were discovered nearby. Today it is a well-known community of writers, artists, ranchers and miners. The town's tree-lined main street features the Black Range Museum (purchased in 2016 by the Hillsboro Historical Society), the 120-year-old General Store (now a restaurant), lodging accommodations, shops, a greenhouse, and artist's studios.
The Hillsboro Community Center sponsors regular, high-quality musical events throughout the year. See SierraCountyEvents.com for concert listings and more.



Lake Valley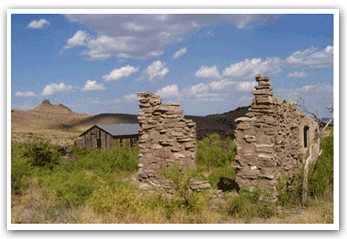 From Hillsboro you can take a side trip to Lake Valley, a ghost town about 18 miles south. Named in 1878 for ancient lake beds nearby, this silver mining town had a heyday population of over 4000 people. Today Lake Valley is cared for by the Bureau of Land Management, and remains fairly intact. Weathered wooden buildings, a school, a garage and several houses still survive. This was the location of the Bridal Chamber Mine, one of the richest veins of silver ever discovered.



Kingston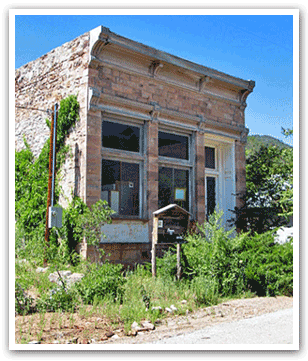 As NM 152 winds up into the mountains, it passes Kingston, another mining town of the 1880s, with a reputation for wild and wooly ways. The Percha Bank has been restored and is now a museum that is open by appointment.
Information about the history of Kingston and a walking tour map is now available online at the historic Black Range Lodge. Kingston's Historic District features several buildings and the town bell, cast from ore from local mines.  The old cemetery outside of town is still in use.




Emory Pass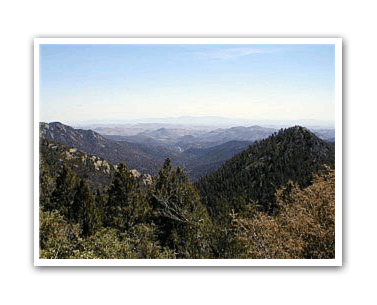 Continuing west past Kingston, the road gains nearly 3000 feet in altitude over nine miles, and crests at Emory Pass. This magnificent viewpoint at above 8,000 feet overlooks mountains, valleys and Caballo Lake over 50 miles to the east. An extensive system of trails offers pleasant hikes through cool forested mountains or along shady streams. Backpackers will find plenty of beautiful, wild, rugged, and remote country for long trips in quiet solitude.




San Lorenzo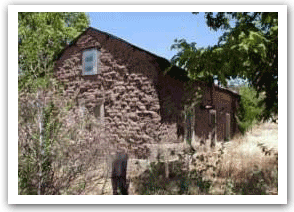 Leaving Emory Pass, the terrain changes from towering pines on the mountains and cliffs overshadowing the road to gentle slopes, with juniper, cedar and scrub oak, until it reaches the Mimbres River Valley.
The Geronimo Trail National Scenic Byway ends at the junction of NM 152 & NM 35, just south of San Lorenzo. Turn north toward San Lorenzo on NM 35 to access the adjoining scenic trail, the Trail of the Mountain Spirits National Scenic Byway.