The Byway starts and ends in the Gila Wilderness and, for those with 4-wheel drive, Forest Service Road 150 completes the loop.  The Trail goes from mountain forests to dry desert, scrub-dotted hills and the largest lakes in New Mexico. Take our virtual tour to see the beauty; come in person to feel the magic.
The Visitor Center is located at 301 S. Foch (between Broadway & Main), Truth or Consequences, near the center of the designated Byway. Mileage from the Visitor Center to San Lorenzo at the southern end of the trail is approximately 56 miles or 112 miles round trip. Mileage from Truth or Consequences to Beaverhead is approximately 82 miles or 164 miles round trip.
How to Get Here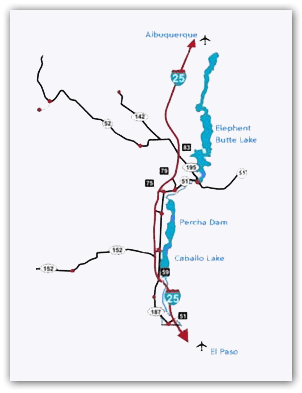 The Byway is in southwest New Mexico on Interstate 25, the Pan American Highway, that bisects the state from north to south. We are between two east-west highways, I-10 (1 hour south) and I-40 (2 hours north).
Albuquerque International Sunport is 150 miles to the north, just off I-25. From the Airport, drive south on I-25 and exit at Truth or Consequences on Exit 79. Proceed through town until the road divides into one-way downtown streets – you'll be on Main once you enter downtown. Take a left on Foch Street. The Geronimo Trail Visitors and Interpretive Center is located between McAdoo & Sims streets. Parking is available on Foch and McAdoo streets.
El Paso International Airport is about 150 miles south of Truth or Consequences.  From El Paso go north on I-10 to Las Cruces,  NM and take I-25 north at the junction. Proceed north to Truth or Consequences, and take Exit 75 at Williamsburg. Follow the four-lane highway about a mile until it divides into one-way streets in downtown Truth or Consequences. You will be on Broadway. You will pass Davis Fleck Pharmacy on the right and the Bank of the Southwest on the left. Turn left on Foch Street; the Geronimo Trail Visitors Center will be on the left between Sims and McAdoo.
Visitor Services
Fueling Up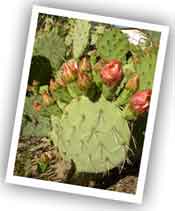 Gasoline is available in a number of locations on the Rio Grande section of the Byway and is normally available in the communities of Winston (northern route) and Hillsboro (southern route). Fuel may also be obtained on Old Highway 187 at the Hillsboro turnoff. With so few vendors selling fuel, you should check availability before making an extended drive on less than a full tank.
No fuel is available on the 36 mile trip from Hillsboro to San Lorenzo or on the 62 mile round trip between Winston and Beaverhead.
Lodging and Restaurants
You will find a complete and up to date listing of visitor services, including hotels and restaurants, can be found at SierraCounty.info.
Activities

Boating: Many types of boats (including jetskis and houseboats) are available for rent at one of Elephant Butte Lake's 3 marinas. Both the Rio Grand Yacht Club and the Southwest Dragboat Association hold frequent tournaments and events.  Two annual boat parades, Fly Freedom's Flag (the Saturday of Memorial Day weekend) and the annual Parade of Lights (second Saturday in December) are held annually.

Camping: Over 300 developed campsites are available at the three New Mexico State Parks and there are hundreds more, both with and without services, at locations throughout the Gila National Forest.

Fishing: With New Mexico's 2 largest lakes, the Rio Grande, and the streams and smaller lakes of the Gila, fishing is one of the area's most popular activities. The monthly American Bass tournaments and other fishing events attract crowds. An almost unlimited number of scenic and 'favorite' spots are available for those just wanting to fish. The Gila, althought relatively dry, also offers fishing in its many miles of perennial creeks and rivers as well as in man-made lakes. Some of the more common sport fish found in these waters include Rainbow and Brown Trout, Large and Small Mouth Bass as well as Channel and Flathead Catfish.

 Golf: There are 2 golf courses along the Byway. Truth or Consequences' Municipal Golf Course offers 9-holes, a putting green and a pitching green.  Sierra del Rio Golf Course, an 18-hole course, is affiliated with Sun Country PGA and sponsors regular tournaments. As a part of the new Turtleback Mountain Resort, Sierra del Rio offers a country club atmosphere at day use prices.

There are 5 Museums on the Byway:
Black Range Museum, Hillsboro; Geronimo Springs Museum, Truth or Consequences; Hamilton Military Museum at Veterans Memorial Park, Truth or Consequences; Percha Bank Museum, Kingston; and Pioneer Store Museum, Chloride.

Hiking: There are hiking trails, nature walks and guided tours in the State Parks on the Byway.  The Gila National Forest has hundreds of miles of hiking trails, as well as a number of interpretive trails; 22 miles of the Continental Divide Trail run through the Aldo Leopold Wilderness and can be accessed from Hwy. 59 near Beaverhead or from the Rocky Canyon Campground near San Lorenzo.

Birding: Percha Dam State Park is one of the 5 top birding areas in New Mexico and every spring sponsors Migration Sensation, a 2 day education and event celebration.  Percha, along with the other 2 State Parks on the Byway, were recently designated as Audobon 'Important Birding Areas.' Approximately 337 bird species have been sighted in the Gila. The numerous species of birds found is largely related to the diverse ecological habitat found on the Gila and location on a migratory flight path.  Southwest New Mexico Birding information is online at www.wildlife.state.nm.us/recreation/birding sites numbered 30 through 37 are within the Byway. The Gila Bird Check List is available as an Adobe PDF.

Biking: Bicycle traffic is common along the byway. Local bicyclists often take their bikes by car out to a section of the byway, leave the car safely parked along the side of the road and ride their bicycles for several miles and back to the car. There are bicycle endurance races held on NM-152 across the Black Range over Emory Pass. This road is also on the southern Bike Centennial route across the U.S. attracting bicyclists from all over the world.  Another annual event that attracts national competition is the Elephant Man Triathalon which includes a 26.5 mile bicycle bike course on the perimeter of the lake.

New Mexico Statewide Road Conditions
(24-hour service)


1-800-432-4269
The roads from Kingston all the way to Beaverhead may be closed after winter snowfalls, until plowed. Note that Forest Development Road 150 is never plowed, and driving on it in times of snow is forbidden. Check road conditions before leaving if any doubt of their being passable exists. Allow extra driving time for the curvy mountain roads in any event; you'll have a better, more relaxed experience. If you encounter cattle on the highways or roads, remember – they have free range and the right-of-way.
Leave No Trace
You play an essential role in ensuring the ethical treatment and protection of irreplaceable archaeological resources. Archaeological sites throughout New Mexico offer us a unique opportunity to study the history of the Southwest as experienced and depicted by the people who lived it. Archaeological resources, both sites and collections on Federal and State Lands, are protected by the 1906 American Antiquities Act, the 1979 Archaeological Resources Protection Act (ARPA) and the 1990 Native American Graves Repatriation Act (NAGPRA).
Helpful Contacts
Geronimo Trail Scenic Byway Office
301 S. Foch, Truth or Consequences NM 87901


575-894-1968
Sierra County Sheriff's Office
(most of the Geronimo Trail is in Sierra County)
575-894-6617
Grant County Sheriff's Office
(the southwest corner of the Geronimo Trail is in Grant County west of Emory Pass.)
575-538-3797
Catron County Sheriff's Office
(a small part of the Trail in the northwest corner is in Catron County including the Beaverhead Work Center)
575-533-6222
New Mexico State Police
888-442-6677
Black Range District, Gila National Forest
(the area of the Geronimo Trail in the Gila National Forest, generally)
1804 Date Street, Truth or Consequences NM 87901
www.fs.fed.us/r3/gila/dist/brix.htm
575-894-6677
Mimbres Ranger Station
(located in the southern part of the Gila National Forest)
www.fs.fed.us/r3/gila/dist/wdix.htm
HC 68 Box 50, Mimbres NM 88049
575-536-2250
Beaverhead Ranger Station
(located in the northern part of the Gila National Forest)
575-772-5747
Sierra Vista Hospital
(Truth or Consequences)
800 East 9th Street, Truth or Consequences NM 87901
575-894-2111