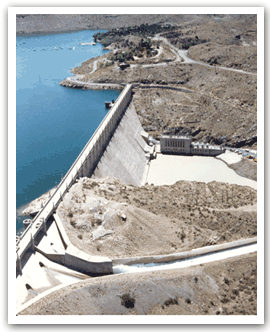 This section of the Byway runs south inside the Rio Grande valley, which has for centuries been an agricultural and transportation corridor along the Rio Grande – the fourth longest river in the world. Interstate 25, the major north-south road in New Mexico, runs parallel to the Rio Grande and provides easy access to the river towns which have most of the County's population and services. The non-urban roads in this zone are state-maintained highways with two 12-foot-wide paved driving lanes and intermittent shoulders.
Elephant Butte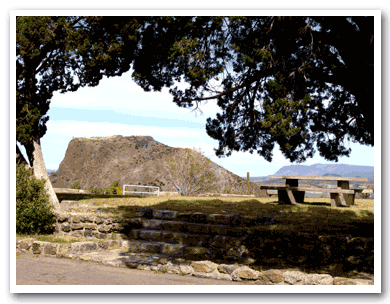 One of New Mexico's newest cities, Elephant Butte is named for an ancient volcanic cone which sits in the lake and resembles an elephant's head.  It is New Mexico's largest and most popular lake with outdoor recreation and events throughout the year.  Elephant Butte Lake State Park has full park services, excellent fishing, swimming and water sports.
Come in June for the Chile Challenge Cook-Off, August for the Annual Balloon Regatta and Elephant Days, or check SierraCountyEvents.com for info on tournaments, regattas and on-shore activities – the weather is good year-round and there's always something to do.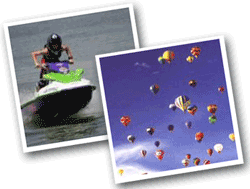 An easy to moderate hiking trail at Elephant Butte Lake is shown in pink on this map: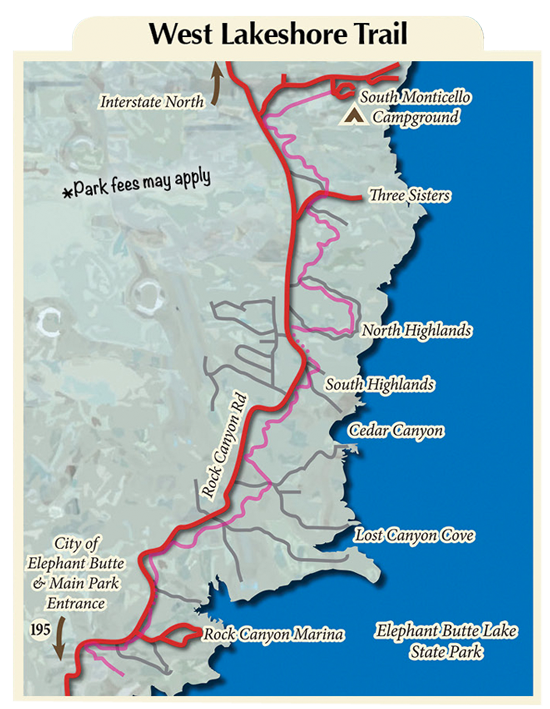 Two Side Trips from Elephant Butte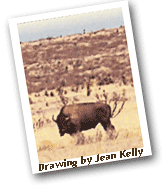 1) Engle
Built in 1879 as a station on the Atchison, Topeka and Santa Fe Railroad, Engle became a thriving cattle town and shipping point for ore and supplies. The area east of town was restricted by the U.S. government when it created White Sands Missile Range in 1945, and that spelled the end.
Engle lies on the Jornada del Muerto, the roughest section of El Camino Real.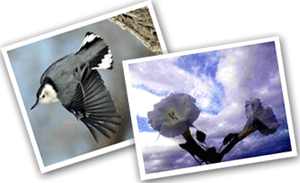 2) Paseo del Rio Campground
Paseo del Rio provides a more remote, less crowded atmosphere than the nearby lake, and is ideal for day use and overnight camping. There are no sewer or electric services offered but there is a comfort station with showers, as well as campsites along the river and well-used walking paths.




Truth or Consequences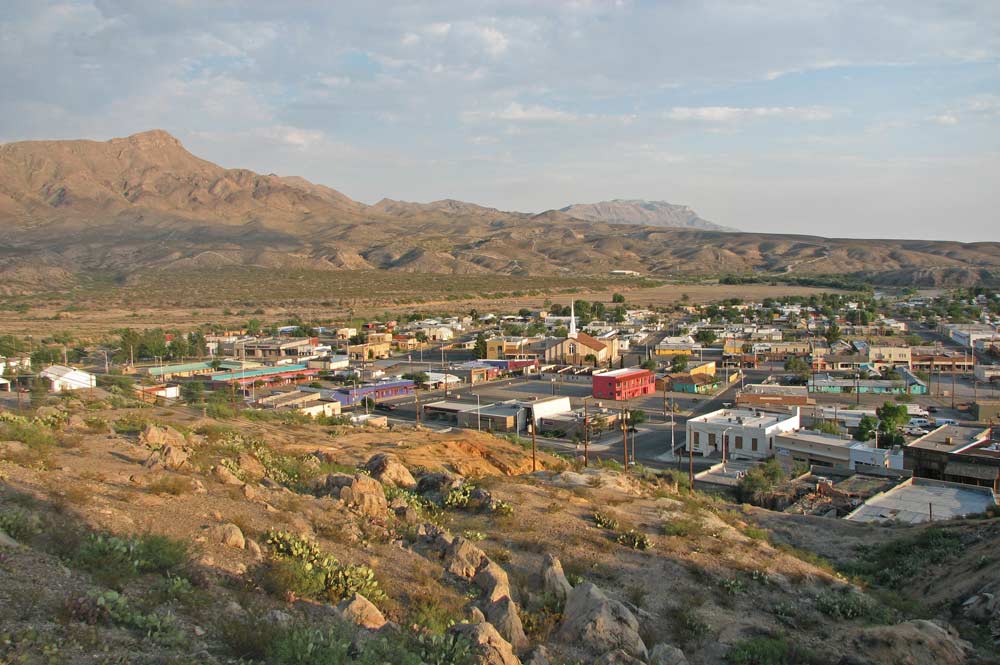 "T or C" is home to the Geronimo Trail Scenic Byway Visitor's Center, where you can pick up brochures and other information on enjoying your stay. Two museums are here, including the Geronimo Springs Museum with its world-class display of early Mimbres-Mogollon pottery, Apache artifacts and culture, Hispanic heritage, ranching, mining and military displays, fossils, art, area history, and the Veterans Memorial Park & Hamilton Military Museum, which pays tribute to veterans and all the conflicts in which our country has been engaged.
Formerly named Hot Springs, Truth or Consequences has been touted as America's Most Affordable Spa Town. The downtown area sits over a huge geothermal aquifer of 110-degree-Fahrenheit mineral water which comes to the surface at the river and through wells and pools. For hundreds of years it was neutral ground for Southwestern Indians who came to relax and heal. The spa area is a National Historic District and its bathhouses still provide comfort and ease of muscle pain to residents and visitors alike. A newly established walking path, the Healing Waters Trail, loops through downtown's hot spring & commercial district, anchored by the Veterans Memorial Park on the western end and Ralph Edwards Park on the eastern end.







Turtleback Mountain Hike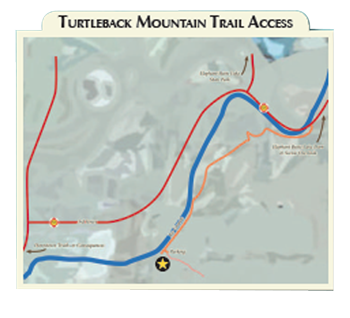 The Turtle Mountain hike is popular with locals and visitors alike.
For more information on this and other hikes in the area, see SierraCounty.info/hiking.
The map below links to the trail as shown on Google Map.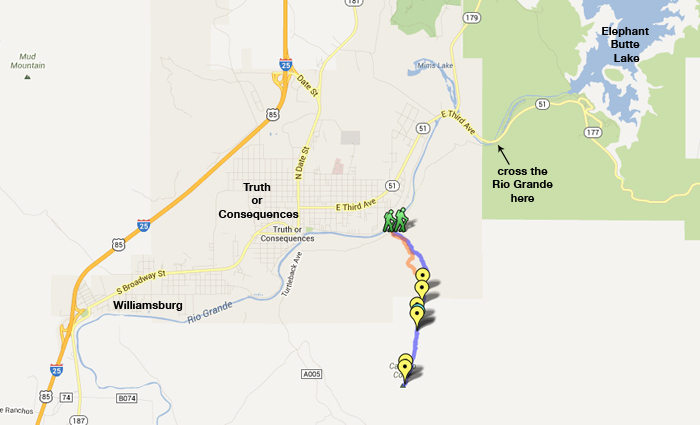 Williamsburg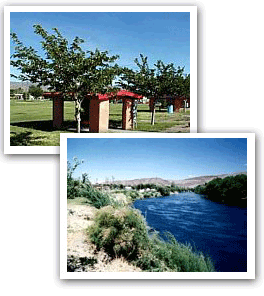 In 1949 a group of about 300 Truth or Consequences residents broke away and created the Village of Williamsburg. A disastrous flood in 1976 prompted construction of the Powey Mud Springs Canyon Dam in 1980. Its unusual washboard-like face, designed to impede the flow of floodwater and debris, is visible on the other side of I25 from much of Williamsburg. At the far end of town, you'll turn southbound onto two-lane Highway 187 and follow the Rio Grande past Las Palomas and toward the Caballo Mountains.



Caballo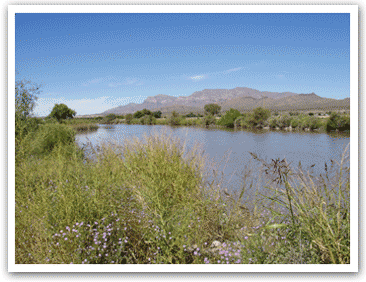 The Village of Caballo is the gateway to Caballo Lake and Percha Dam State Parks. The town and the lake are both named after the mountains and the mountains were named for the herds of wild horses found to be descendants of the horses brought here in the late 1500s.  Sierra de los Caballos literally means "Sawtooth-Ridged Mountain Of The Horses."
The original community of Caballo, dating back to 1908, is under water. In 1938, when the lake behind Caballo Dam began to fill, it covered the homes of settlers. These families moved their homes to the foothills on the west side of the Rio Grande, where they continued to raise livestock.






Two Side Trips from Caballo
Caballo Lake State Park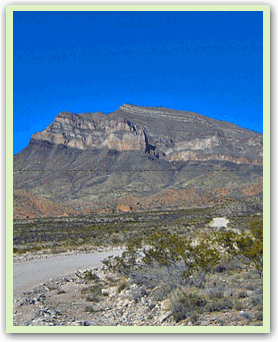 At 18 miles long, this is the second largest body of water in New Mexico. Caballo Lake State Park offers family-oriented and mostly handicap-accessible services, picnicking, nature trails, swimming, boating. Year-round fishing is popular with people who like to fish active rivers and the park is home to southern New Mexico's windsurfing enthusiasts (April through October particularly, near the dam).






Percha Dam State Park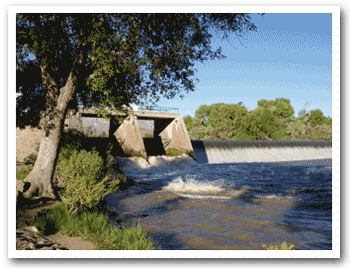 Just south of Caballo Lake, Percha Dam State Park is a quiet, serene getaway under the shade of tall cottonwoods, Russian olives, and salt cedars. Along with the 2 other State Parks on the Byway, Percha is designated an Audubon Important Birding Area and is one of the top 5 birding sites in New Mexico. It is spectacular' during the spring and autumn migration seasons.  Every spring the park sponsors a Winged Migration event for birders.  Full park services are available and this is a popular area for fishing.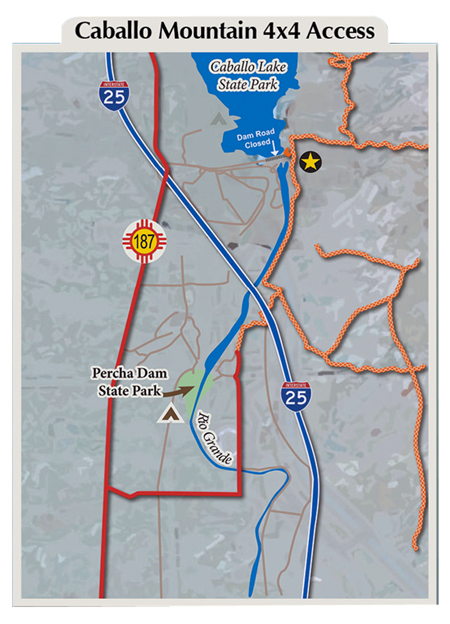 Four-wheeling in the Caballo Mountains
The Caballo Mountains provide fantastic opportunity for 4×4 recreation. Stop by the Visitor Center to pick up a map of assigned trails.
Roads are shown at the left in orange.